About JDA
Organization
The organization of the Japan DME Association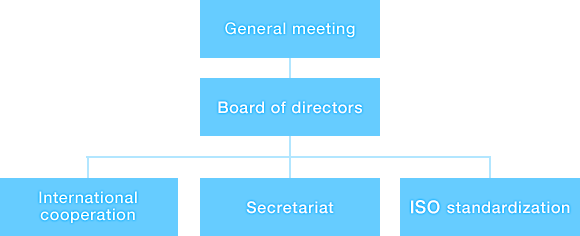 Activity
Vehicle & Infrastructure Committee
 The Vehicle & Infrastructure Committee conducts technical development activities on use of DME vehicles and also works to establish regulations for DME vehicle commercialization and fueling facility construction. Through these activities, the committee aims at promoting DME vehicles and fueling infrastructure.
Use application development Committee
 The Use application development committee conducts studies on the field including the possibility of the use expansion of DME through the investigations into present environment surrounding the energy and mid-long term energy trend. Furthermore, this committee conducts the activities to encourage the spread of DME as the fuel for the transportation, and to increase the recognition of DME.
Forum Committee
 The Forum Committee conducts studies, researches, research assistance and promotional activities for DME production & utilization, establishes strong connections to the international DME network, and organizes DME-related symposiums and events. The committee also aims at developing DME future vision and creating projects for DME promotion.
International Cooperation
 The International Cooperation assists international DME conferences organized by the International DME Association (IDA) and DME associations in Asian countries, and strengthens the partnership with the IDA as its main contact in Japan.
Leadership
Director General, Masao Toyosaki, Japan Petroleum Exploration Co., Ltd.
Director, Terukazu Nishimura, ISUZU ADVANCED ENGINEERING CENTER, LTD.
Director, Naoaki Endo, Total International S.A. Japan Branch
Director, Kenji Asai, Iwatani Corporation
Director & Head of Forum Committee, Shinichi Goto, National Institute of Advanced Industrial Science and Technology
Auditor-secretary, Toshio Miura, ENEOS GLOBE Corporation
Head of Vehicle & Infrastructure Committee, Takeshi Tokumaru, ISUZU ADVANCED ENGINEERING CENTER, LTD.
Head of Use application development Committee, Tsuyoshi Sakakida, Total International S.A. Japan Branch
Co-head of Use application development Committee, Hideyuki Miya, Iwatani Corporation
Representative of International Cooperation, Yotaro Ohno, RenFuD Corporation
Secretary-general, Hiroyuki Amemori, A-TEC
Members
Corporate and association members (20 members)
Chiyoda Corporation
ENEOS GLOBE Corporation
Iino Kaiun Kaisha, Ltd.
INPEX CORPORATION
ISUZU ADVANCED ENGINEERING CENTER, LTD.
ITOCHU Corporation
Iwatani Corporation
Japan LP Gas Association
Japan Petroleum Exploration Co., Ltd.
JGC Corporation
KOKUKA SANGYO CO., LTD.
MITSUBISHI GAS CHEMICAL COMPANY, INC.
Mitsubishi Heavy Industries, Ltd.
MITSUBISHI HITACHI POWER SYSTEMS,LTD.
Mitsui O.S.K. Lines, Ltd.
NIPPON GAS DEVELOPMENT CO., LTD.
NIYAC CORPORATION
Hitachi Automotive Systems Measurement, Ltd.
Total International S.A. Japan Branch
Toyo Engineering Corporation
Individual members (14 members)
Organization History
In progress